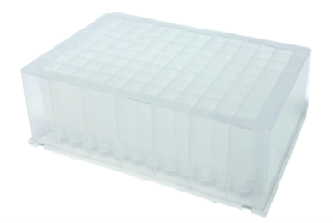 Aegis 96-Deepwell Plates (50 pcs/box)
---
Aegis 96-Deepwell Plates are ideal for sample collection, storage, combinatorial chemistry and library applications and can also be used for in nucleic acid isolation.
alpha-numeric grid for quick sample identification
skirted for sturdiness & robotic handling
corner cut at well A1 for easy orientation
V-bottom design for optimal sample recovery
max. capacity 2.2 mL
polypropylene
 Aegis 96-Deepwell Plates can be used for automated nucleic extraction with
Allsheng AutoPure-96
Phoenix AutoPure-96
Thermo Fisher King Fisher
Need additional payment options for large purchases? We are happy to help, please contact us at 1.833.548.8378 or email sales@traxconnects.com.
TRAXSKU30002