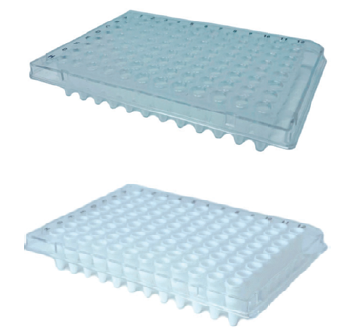 Aegis 96-Well PCR Plates (10 pcs/box)
---
Aegis 96-well PCR plates are suitable for endpoint and qPCR. The clear polycarbonate shell and semi-skirted style provide sturdiness for handling with automated systems, the cut corner at A12 allows for at-a-glance identification of the correct plate orientation. Easy-to-read black row/column labeling adds to the convenient handling.
Features
DNA/RNA/RNAse free
max. volume 200 μL allows preparative applications
ideal choice for use with automated/robotic systems
wells: polypropylene, shell: polycarbonate
available in clear and white
AegisWhite: white wells for improved fluorescence sensitivity
Need additional payment options for large purchases? We are happy to help, please contact us at 1.833.548.8378 or email sales@traxconnects.com.
TRAXSKU30001